Rank Math Pro Review
Let's talk about why I wrote this article about Rank Math Pro Review. Rank Math SEO plugin is one of the best WordPress SEO Plugin on the market. Rank Math was founded in 2018 and quickly gained popularity in the field of SEO. My blog is about programming tutorials, so I don't usually publish articles like this.
I wrote this review based on my personal experience since I began blogging. I started with the Blogger platform, but it's not enough for me because I can't use plugins, Blogger is limited, and I'm not sure if my articles are SEO-optimized.
Note: To be fully transparent, some of the links in this article are affiliate links, which means that if you use them to purchase Rank Math Pro, I will receive a commission at no additional cost to you.
Before I switch to WordPress, I gained less organic traffic, possibly because I didn't know if my articles were well optimized in 2020. After a few months of using the Blogger Platform, I decided to switch to WordPress in July 2021, and I used the Rank Math free version. After a few more months, I decided to purchase the Pro version in September 2021.
After months of using WordPress with Rank Math, I've noticed an increase in organic traffic. I am very impressed with Rank Math because I am seeing results in my traffic. Rank Math Pro has a lot of features and is a very powerful plugin. This is also the reason I created this Rank Math SEO review because I want to tell anyone that Rank Math is the best SEO plugin for WordPress.

How to use Rank Math For Free
If you want to try it out for free, Rank Math SEO review is the best option. With the free version of Rank Math, you can optimize your articles and rank them on search engines. To use the free version, sign up at Rank math and download the free version by clicking the button below.
How to optimize articles using Rank Math
It is really easy and simple to optimize your post using Rank Math; all you need is a focus keyword and you must follow Rank Math's requirements to get a perfect SEO score. If you're unsure how to begin, I recommend watching the video below. From there, you'll learn everything you need to know about optimizing your articles and achieving a perfect SEO score.
Let us now go over the plugin's features.
Rank Math SEO Review: Features
Rank Math has nearly 90 awesome features. I also like Rank Math's User Interface because it is very clean and well organized, making it easy to understand. There is no need to worry if you are new to Rank Math because they did their best specially for starters. Rank Math provides you with powerful and simple-to-use features that will help you take your SEO game to the next level.
1. Built-In Advanced SEO Analytics Module
The first feature of Rank Math Pro Review is the Built-In Advanced SEO Analytics Module. It provides you information from Google, You can see the keywords for which you rank.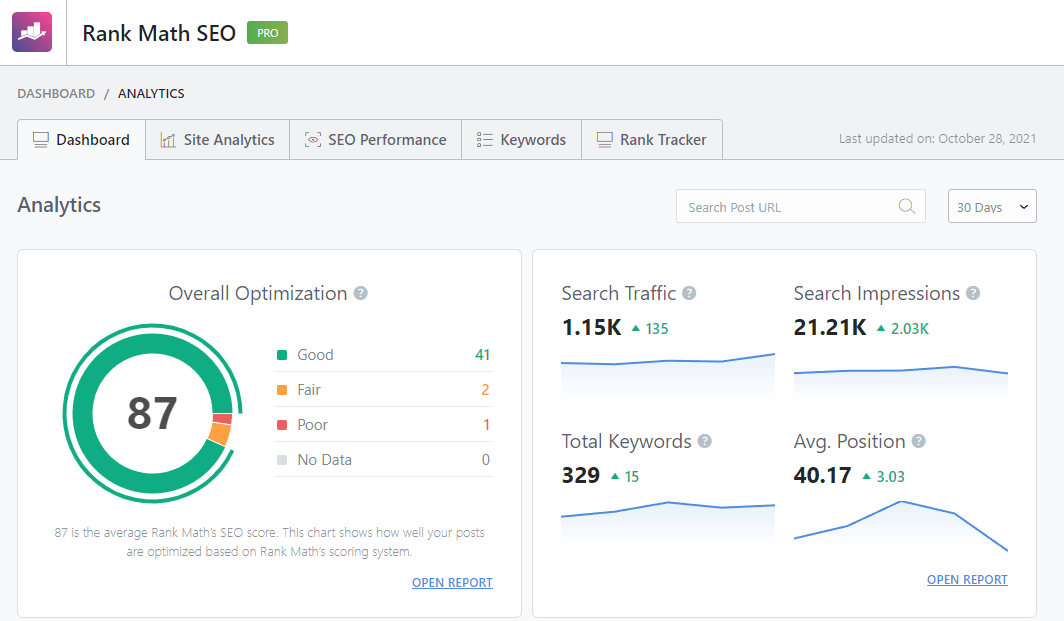 2. Keyword Comparison & Google Trends Tool
If you don't have Keyword Research Tool like Ahrefs, Semrush, or Ubersuggest. This is the best way for you to find keywords and it is very easy to use. It will help you in searching for trending keywords and comparing keywords to determine which is more popular.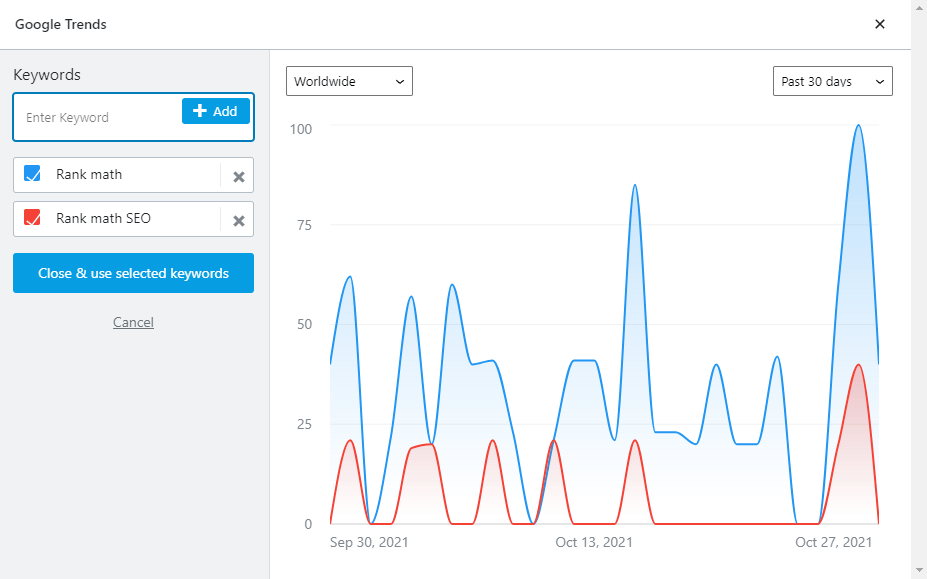 3. Focus Keyword and Content Analysis
One of the most powerful feature of the Rank Math Pro Review is the Focus Keyword and Content Analysis which will help you optimize your article to get the 100 percent SEO Score. You will need to complete the Basic SEO, Additional, Title Readability, Content Readability to get the Perfect SEO score.

4. Ping Search Engines
Ping Search Engines is also powerful feature. You do not need to go to your webmaster tool to index your newly published article. You can quickly index your article using Rank Math's Instant Indexing feature.

5. 404 Monitor
If you have broken links in your website the 404 monitor will do the tracking if you have broken links in your website. There is no need to worry about your broken links.

6. Redirections
If you know you have broken links or the 404 monitor tracked a broken link. The Redirection feature will help you redirect your broken link to its new link.

7. Lacking in Features?
I didn't go over all of the features because there are too many to list one by one. If you want to learn more, you can view them all here Rank Math Pro Review Features.
Rank Math SEO Review Pricing
Do you want to grow your traffic and do SEO to the next level? Rank Math offers very affordable pricing. You can choose whether PRO, BUSINESS, AGENCY.
PRO – The PRO version of Rank Math is perfect for bloggers. The pro version has everything you need to do SEO.
BUSINESS – The BUSINESS version of Rank Math is perfect for Freelancers especially if you have clients. It is also perfect to business owners.
AGENCY – The AGENCY version of Rank Math is perfect for all business owner. It offers 500 client websites.
Conclusion
Rank Math is the most powerful way to optimize your articles and improve your search engine rankings. It's difficult to write articles when you don't know how to optimize them for search engines. I wrote this Rank Math Pro Review to share my experience and to show you how to use the plugin to increase your website's revenue and traffic. When you don't have an SEO assistant like Rank Math, SEO is never easy.